This is a mixture of different projects that I have been up to during school and my free time. If you would like to hear some more about a specific project, just get in touch!
Interaction design, UX design, UI design, Typography, Illustration, Animation, Print layout
Freelance project
WEDDING INVITATIONS
This is a project I've been up to during my spare time. During this project I have created save the date-cards, wedding invitations, menus, name cards, and thank you-cards that have all been printed.
YEAR:
 2021-2022  
TEAM:
 Individual work  
DELIVERABLES:
Ready for print wedding invitations   
TOOLS:
 Pen & Paper, Adobe Scan, Photoshop, Illustrator, InDesign
School project
CRITICAL MARIO
A short project of one week that I did in the course Designing User Experience, where I could choose to create a critical, speculative or embodied design.
Critical Mario is a prototype of a critical game, made to criticize the environmental impacts of the clothing industry. It is based on Super Mario Bros, using the same game-logic and environment, but in this game you are collecting clothes and other things that gives you satisfaction. The environment goes darker for each time you collect new clothing, but there is a way to make conscious choices and win the game while still keeping the environment healthy.
YEAR
: 2020 
TEAM:
 Individual work 
DELIVERABLES:
 Interactive Critical design 
TOOLS: 
Adobe XD
This LP cover was made in the course Graphic Tools. My task was to read the lyrics of a song, read about the band and convey my interpretation of the band in a LP cover. This design was featured on the course page!
YEAR: 
2020 
TEAM: 
Individual work  
DELIVERABLES:
 Interpretation of the band Onmoonon & LP Cover  
TOOLS: 
Pen & Paper, Photoshop, InDesign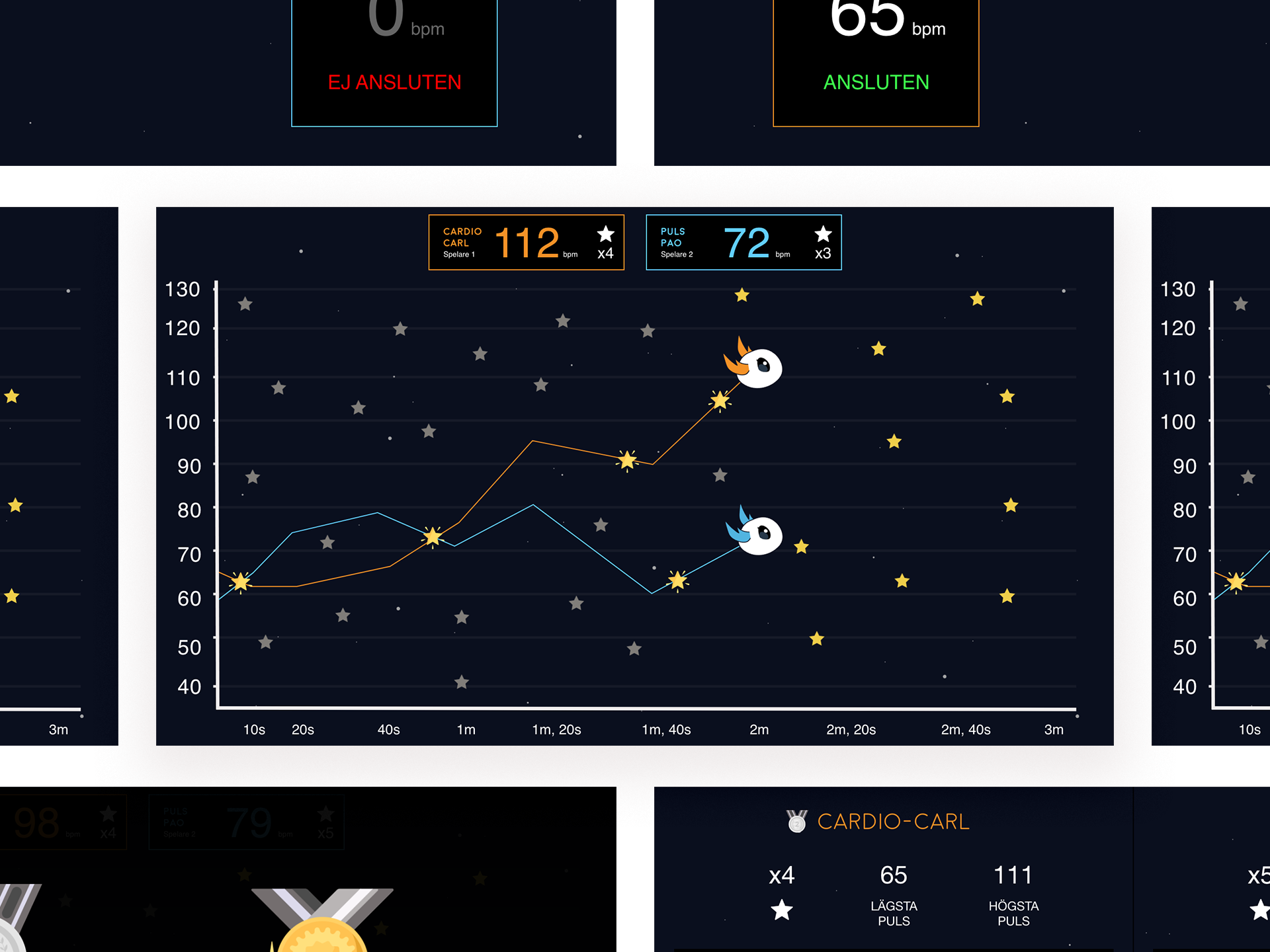 The purpose of this project was to make natural science interesting and relevant for young adults. The project should inspire them to learn more about science and lead them into research in a fun & interactive way. It is a collaboration together with 'Digitala Universeum' with the aim to contribute to their site with a wide range of new concepts and prototypes for learning environments, where users can explore science through tracking and measuring themselves.
Pulse Race is a gamified information visualization where you can play as a single player or two players. You are a character and the mission is to collect points. Each player has its own character which leaves traces behind it, forming a graph of the users heart rate (bpm). When the game is finished the result is presented and the users can learn & discuss about their statistics.
YEAR
: 2020  
TEAM: 
Me, Sofia Larsson, Pauline Mattsson, Maja Albrektson, Daniel Duvanå, Carl Lundborg  
DELIVERABLES:
Interactive Quantified Self   
TOOLS:
 Pen & Paper, Polar-OH pulse band, Adobe XD, Illustrator, Unity.
This prototype was made in the course Graphic Webdesign. The task was to create a personal travel guide with layout for both mobile and desktop.
YEAR:
 2021 
TEAM:
 Individual work 
DELIVERABLES:
 Interactive prototype in phone and desktop-view  
TOOLS:
 Pen & Paper, Adobe XD
School project
SITH WARRIOR
This animation was made in the course Expression with 2D Animation. This little Sith warrior was created in Illustrator based on the requirements of having a tail, a helmet and a weapon. 5 different action states were animated in Adobe Animate - idle, run, jump, hurt and attack. Using unity, the five states were mapped to the keyboard, letting the user control the Sith warrior.
YEAR:
2020  
DELIVERABLES:
Character concept and setup, Character animation  
TEAM:
 Individual work  
TOOLS:
Paper & Pen, Illustrator, Animate, Unity
School project
HOTEL SPINNAREN
This prototype was made in the course Graphical Interfaces. The aim of this project was to design a graphic user interface for the hotel Wärdshuset Spinnaren. The Interface covers both the guest view of the site as well as the management site for the staff. 
The fictive buyer of the house had a new concept for the small hotel. The idea was to turn the house into a time capsule: the guests would get to wear clothes from the 1800s and try the food of the time. For this, she needed a new booking system which would include some unusual data for a hotel, such as clothing sizes of the guests. Beside from this, the guest would also be able to book different add ons, such as a museum tours and special events.
YEAR:
 2019  
TEAM:
 Individual work 
DELIVERABLES:
 Interactive prototype of Spinnaren  
TOOLS:
 Pen & Paper, Adobe XD
The task for this project was to minimize classroom sound levels.
Shyyly is an interactive sound visualization, a 2D wall projection of "shyyly", an adorable character that are 'chilling' around a wall- clock as part of the classroom, but crouch and hide when sound levels exceed a certain threshold. The concept is a flexible and simple interactive model that uses the sound stimuli as input and converts the decibels to facial expressions and movements of the projected creatures.
The idea is that the kids will feel as if Shyyly is their school pet, have empathy for it and not wanting to scare it into hiding behind the clock, and thereby keeping the noise down.
YEAR:
2018  
DELIVERABLES:
Prototype  
TEAM:
 Me, Sarah Flih, Elisavet Kaltsouni, Huong Nguyen, Xing Yan  
TOOLS:
Processing, Animate